17 Apr

Agency FAQs on Coronavirus related Changes for Health Plans
New coronavirus relief laws include a number of changes for health plans and health insurance issuers, including a requirement to cover COVID-19 testing without any deductibles or other cost-sharing.
Federal agencies released FAQs regarding these coronavirus-related changes. This Compliance Bulletin contains the FAQs.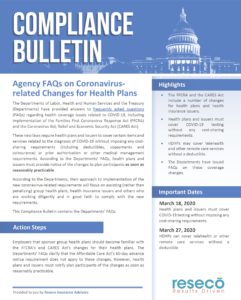 Download the complete "Agency FAQs on Coronavirus Related Changes for Health Plans" – pdf