02 Apr

CARES Act Makes Changes for Health Plans
On March 27, 2020, President Trump signed the Coronavirus Aid, Relief and Economic Security Act (CARES Act) into law to provide $2.2 trillion in federal funding to address the COVID-19 crisis. The CARES Act makes a variety of changes affecting health plans.
These changes include:
Expanding the types of coronavirus testing that all health plans and health insurance issuers must cover without cost-sharing (such as deductibles, copayments or coinsurance) or prior authorization;
Accelerating the process that will require health plans and issuers to cover preventive services and vaccines related to COVID-19;
Allowing telehealth and other remote care services to be covered under a high deductible health plan (HDHP) before the deductible is met, without affecting the HDHP's compatibility with health savings accounts (HSAs) (applicable for HDHP plan years beginning on or before Dec. 31, 2021); and
Treating over-the-counter (OTC) medications, along with menstrual care products, as qualified medical expenses that may be paid for using HSAs or other tax-advantaged arrangements, such as health
flexible spending accounts (FSAs) or health reimbursement arrangements (HRAs).
Highlights
The CARES Act includes a variety of changes for group health plans and health insurance issuers.
COVID-19 vaccines and preventive services must be covered without cost-sharing soon after they become available.
Individuals can use their HSAs, health FSAs or HRAs for OTC medications, without a prescription.
HDHPs can cover telehealth services without a deductible.
Important Dates
Jan. 1, 2020
HSAs, health FSAs and HRAs can reimburse OTC medications without a prescription.
March 27, 2020
HDHPs can cover telehealth or other remote care services without a deductible.

Download the complete "CARES Act Makes Changes for Health Plans" – pdf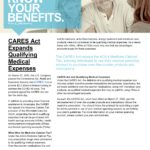 Download the complete "CARES Act Expands Qualifying Medical Expenses" – pdf