01 May

COVID-19 FAQs for Participants and Beneficiaries
The following information comes from the Department of Labor (DOL). This information was last updated April 28, 2020.
The Department of Labor (Department) is issuing these Frequently Asked Questions (FAQs) to help employee benefit plan participants and beneficiaries, as well as plan sponsors, and employers, impacted by
the COVID-19 outbreak, understand their rights and responsibilities under Title I of the Employee Retirement Income Security Act of 1974 (ERISA).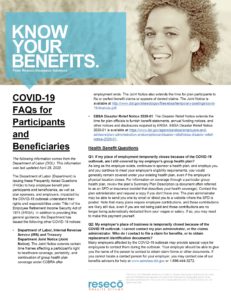 Download the "COVID-19 FAQs for Participants and Beneficiaries" – pdf