10 Apr

Updating Health Plans for Coronavirus Changes
Employers may be considering changes to their group health plans in response to the ongoing COVID-19 pandemic.
In some cases, health insurance issuers for fully insured plans may be initiating some of these changes to help individuals impacted by the pandemic.
These changes may include:
Waiving certain eligibility requirements for employees who have been furloughed or laid off or had their hours reduced; and
Offering a special mid-year enrollment window for employees who did not elect coverage during the last open enrollment period.
In addition, due to COVID-19 relief legislation, employers with health flexible spending accounts (FSAs) and health reimbursement arrangements (HRAs) can amend these plans to allow for tax-free
reimbursement of over-the-counter (OTC) drugs and menstrual care products.
COVID-19 legislation also allows employers with high deductible health plans (HDHPs) to amend their plans to allow coverage of COVID-19 treatment and telehealth and other remote care services, without a deductible.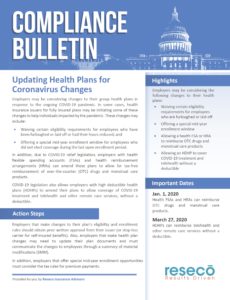 Download "Updating Health Plans for Coronavirus Changes" – pdf